LeoVegas is a company from Sweden. It was founded in 2011, and its full name is LeoVegas Gaming Ltd. Of course, this company is better known for the casino of the same name and the mobile and table games, video slots, and video poker that it develops. However, it also has a LeoVegas betting section, which was opened in 2016. The office has no onshore betting facilities. It operates under licence from Malta and the United Kingdom, although the office is headquartered in Stockholm. By the way, today we are going to talk precisely about the LeoVegas betting section.
LeoVegas is the perfect place for fans of Dota 2, CS: GO, LoL, and other popular games, looking to combine the thrill of LeoVegas eSports betting with the excitement of casino games and sports betting. The website's striking design makes navigation a pleasure, even with lots of LeoVegas eSports matches, and you only have to look at the wide selection of entertainment markets, attractive bonuses, and the massive library of video slots to get the most out of them. When you get to know the LeoVegas bookmaker better, you'll realise you've got endless hours of fun yet to come.
Overall, the eSports betting experience at LeoVegas is fantastic, so you're sure to find plenty of matches from the most popular eSports games here, as well as a lovely variety of entertaining markets on some of them.
In this LeoVegas review, you can find out how to make your first bet at LeoVegas, what the main differences are between the LeoVegas mobile and main versions of the site, whether LeoVegas has an app, which eSports events you can bet on, how there are deposit and withdrawal methods, how LeoVegas support works and much more.
How to place a bet on LeoVegas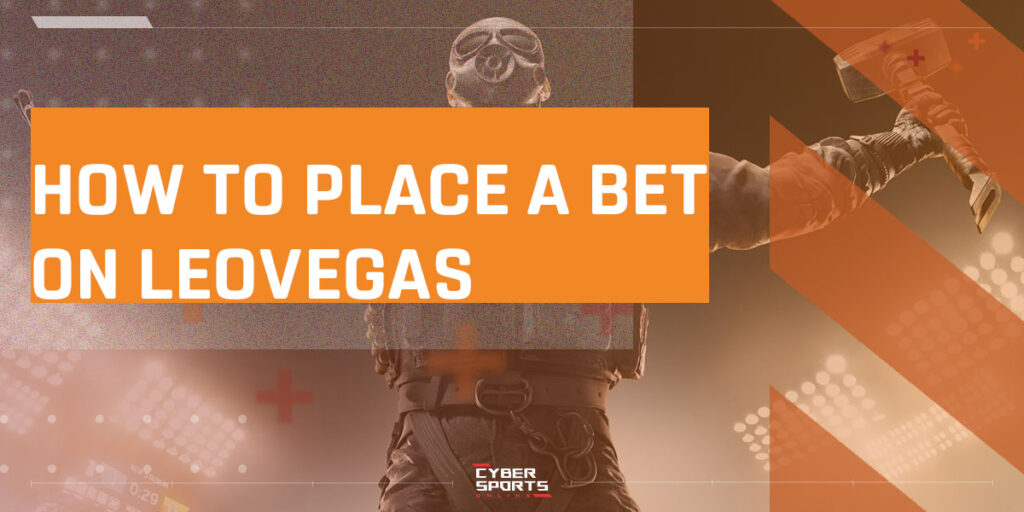 If you are a newcomer and aren't yet quite well versed in the interface of the bookmaker LeoVegas, but you can no longer wait to place bets, we invite you to familiarize yourself with small step-by-step guides, which are located below. It will help you do everything right and avoid any kind of possible mistakes.
So, how to make the first bet in LeoVegas?
1
Choose the bets you like.
First, add all the preferences to your bet slip by ticking on the odds. Here you can choose from three types of bets: single bets, combinations, or system. In the first option, you need to enter a rate for each fixture separately, and in the other two options, the rate is entered at the bottom and covers all types of rates.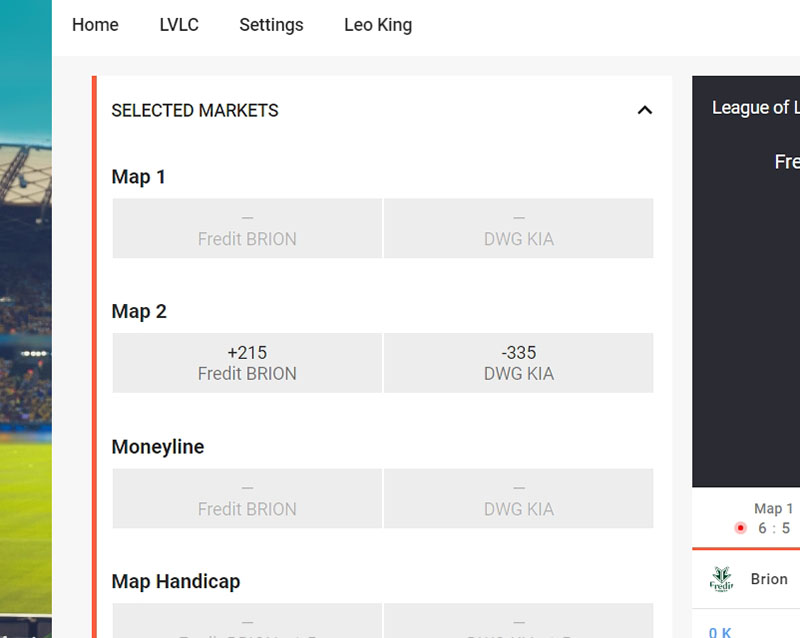 2
Wait while the total rate is calculated.
In all cases, after the bet is made and before you complete the process, the total rate amount and the potential payout will be calculated.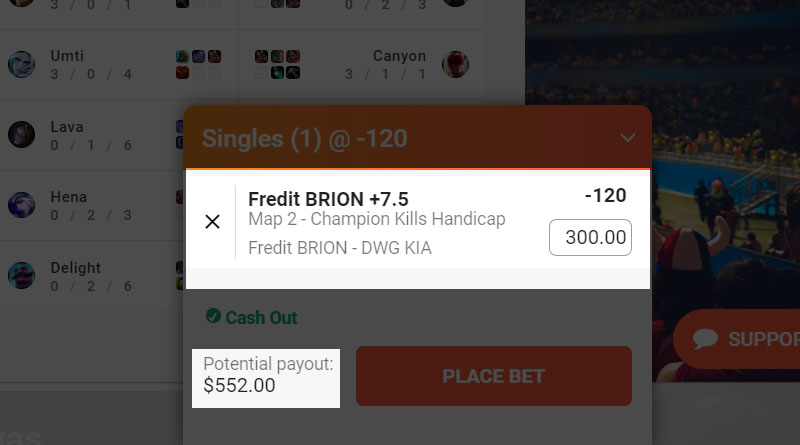 3
Click "Place a bet".
Click "Place a bet" to complete the process. Done! Now you can enjoy the game of LeoVegas and tune in to big wins.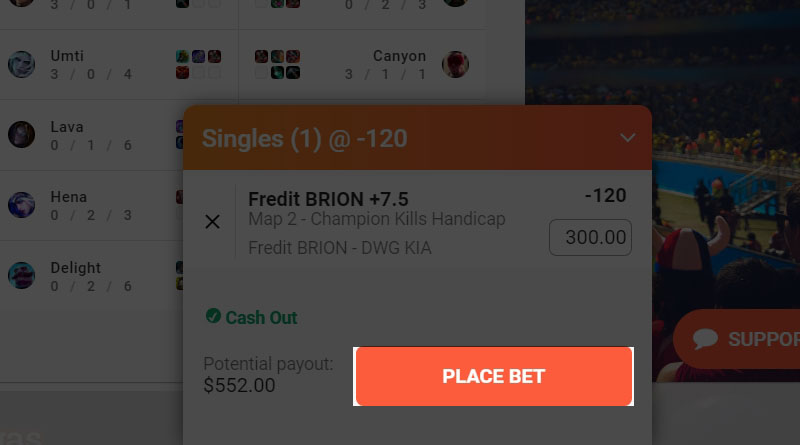 Placing a bet on a mobile device occurs in substantially the same manner as described above. The only difference is that the rate receipt is not always visible on the screen. To access it, click on the "Betslip" icon located in the lower right corner of the screen.
Mobile version and PC version of LeoVegas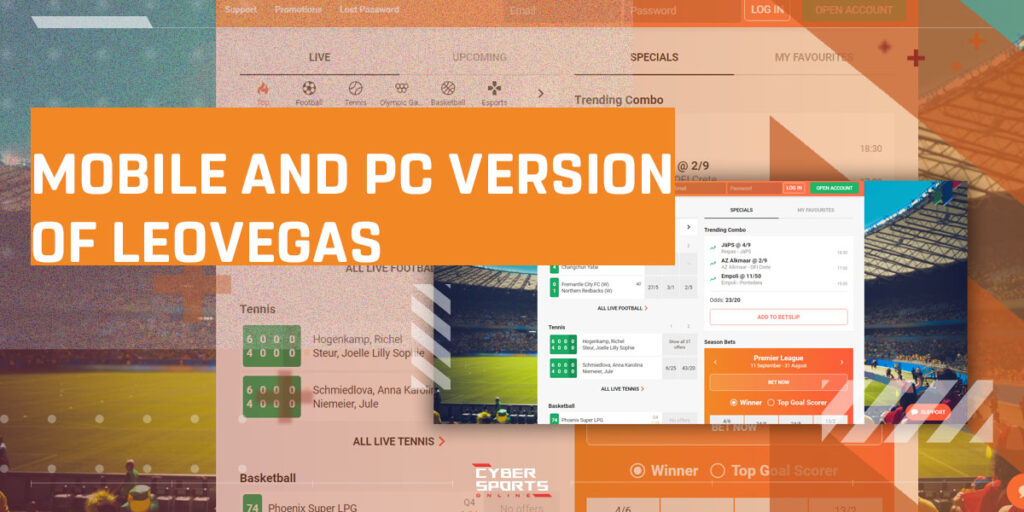 Of course, the LeoVegas betting site has a rather beautiful and original design. On the home page, you'll see many different sections where you can find all sorts of information, both about the institution itself and about the games, promotions, and much more. However, not everything is as simple as it may seem. Let's get to the bottom of this in a little more detail.
Sports betting is not the main focus of LeoVegas. It's probably since the Sportsbook is made very confusing and uncomfortable. In general, everything is, roughly speaking, "piled up" right in the middle of the page. A list of sports betting lines by discipline; below – the top offers (events, leagues); a little to the right – the best long-term bets. For regular gamblers, this may seem very unfamiliar. A search menu with an entry bar makes navigation a little easier.
The top and bottom panels are more standard. At the top, there are links to all the main sections of the resource and buttons to enter your personal account and register. At the bottom – various legal points related to the gambling business, contacts, payment methods, and so on.
As for the mobile version of the site and the mobile application, the situation is as follows. Since the bookmaker's office owner deals with mobile gaming, it would be pretty strange if the sports section was deprived of mobile solutions. At the bottom of the site, in the information section, the bookmaker's office representatives advertise applications for iOS and Android, which will allow you to bet on your favorite sports comfortably.
There are many markets to bet on, especially football, tennis, snooker, and horse racing, which are highlighted. The site also has an adaptive mobile version, which makes LeoVegas betting easier on mobile devices.
Leo Vegas was actually one of the first online casinos to introduce a mobile app for its players. This fantastic innovation for mobile devices has really taken the whole gaming experience to a whole new level. They have spent a lot of both time and money to create it, and it's evident.
The LeoVegas mobile app responds to whatever country you are in, but you can also change the language to suit your needs perfectly. Its clear and straightforward style perfectly matches the original computer version of the website. Don't forget about the usability of the app. The buttons are big enough, and you can use the app horizontally or vertically by simply rotating the screen on your mobile device.
Their efforts really paid off. The Leo Vegas app has won various prizes, such as Best Innovation for Mobile and Tablets and Best Own App. Whether you're a member of the Apple family or an Android user, the Leo Vegas mobile app works great with any software. Just download for free from the App Store or Google Play Store and start playing.
If you're not a fan of the various apps, don't worry; as mentioned, you can still use their website via your mobile browser. Naturally, all betting and gaming options are transferable from device to device, including casino games, live games, and casino slot machines. Besides, you can also contact their support team via live chat in 2021, even using their LeoVegas mobile version.
Overall, to start LeoVegas betting and play, you won't have to download and install any additional software. All you have to do is go through a short registration process. After that, both betting and casino games will be available in any browser. Also, LeoVegas offers a demo mode for which an account is not required.
One last point. There are seven interface languages available in LeoVegas: English, Spanish, Mexican Spanish, French, Dutch, Flemish, and Swedish. The primary background colours are black, white, and orange.
What eSports games can you bet on?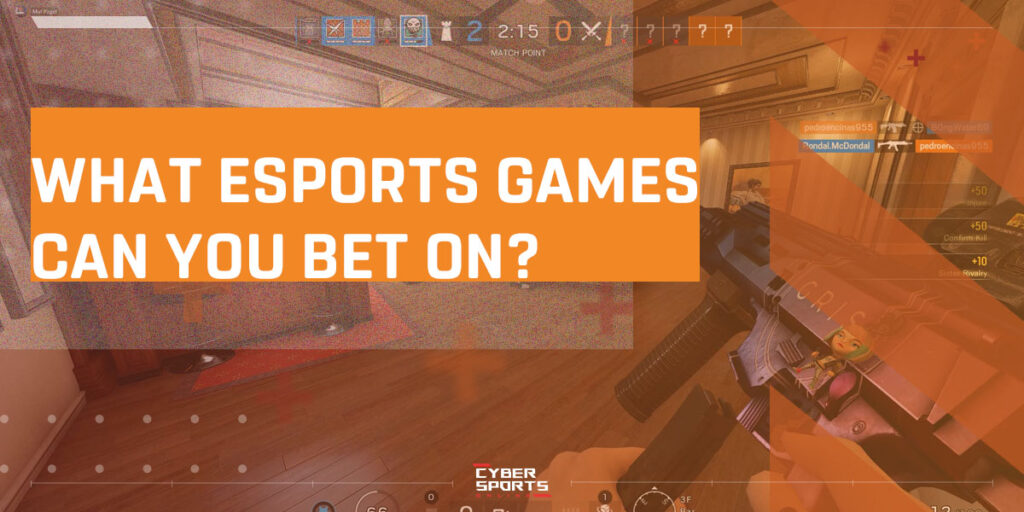 While bettors are looking for sports to bet on, the eSports industry is booming. If you have nothing to bet on, we recommend that you dive into the new gaming world, where the action is every bit as intense as in sports.
It should be noted the management of LeoVegas is seriously interested in the eSports industry and the speed at which it develops every year. That's why LeoVegas bookmaker offers its customers not only bets on regular sports but also LeoVegas eSports. Among them, you will find the likes of:
As far as regular sports betting is concerned, LeoVegas provides bets on more than 35 sports. You can bet on anything from horse racing to special bets on TV, news, and politics. The range of sports LeoVegas betting markets includes American Football, Australian Rules, Baseball, Basketball, Beach Football, Beach Volleyball, Boxing, Chess, Cricket, Cycling, Darts, eSports, Football, Field Hockey, Golf, Greyhounds, Handball, Horse racing, Hockey, Motor racing, Netball, Politics, Rugby League, Rugby Union, Snooker, Surfing, Table tennis, Tennis, Lynx, Television & Novelty, UFC / MMA, Volleyball, Water polo, Winter Sports, WWE, and Yachting.
How to deposit and withdraw funds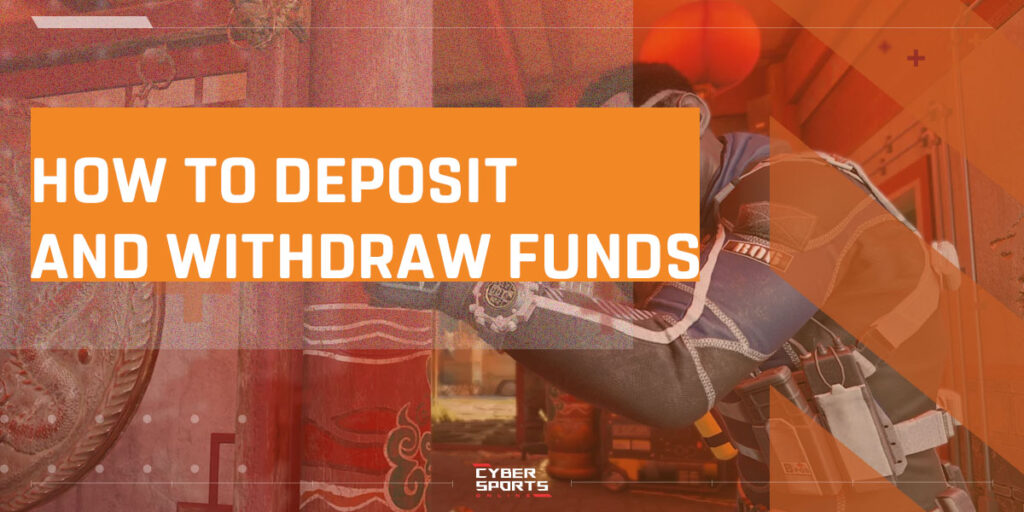 LeoVegas Sportsbook supports many different methods of funding your account. These include credit and debit cards from Visa and MasterCard, and payment methods include top web wallets such as Skrill, Neteller, and PaySafeCard. Also, for example, players from New Zealand and Australia can fund their accounts via POLi Payments.
To deposit you'll have to use the international e-wallets already described above, which the bookmaker allows you to use.
Below you can find methods of depositing your account:
Visa,
Visa Electron,
MasterCard,
Maestro,
Neteller,
Skrill,
Paysafe card,
Swish,
POLi Payments and others.
LeoVegas withdrawal methods:
Visa Electron,
Neteller,
Skrill,
Swish,
POLi Payments,
Bank transfer and others.
Support LeoVegas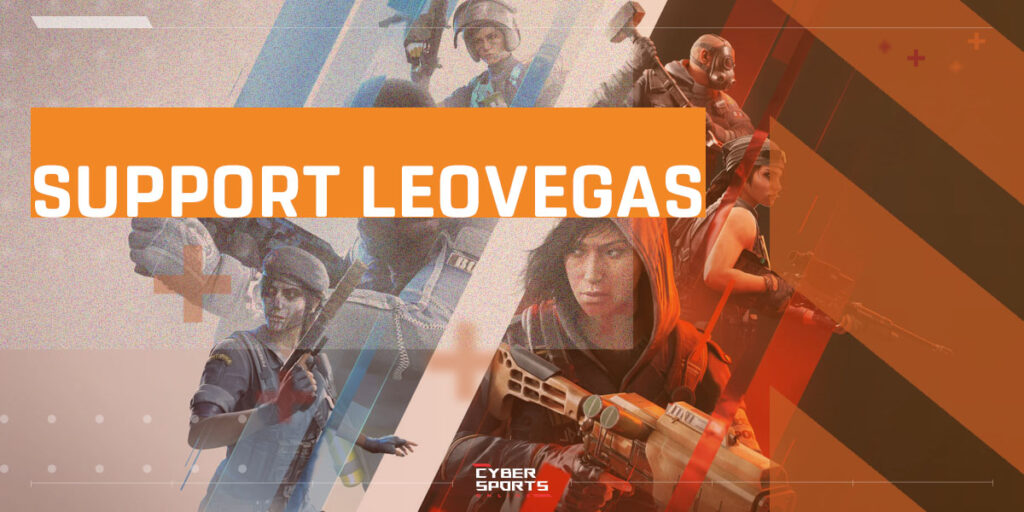 It's worth saying the LeoVegas support team is top-notch. If you have any questions that require the intervention of the bookmaker's or online casino's administration, you can always ask for help from the 24/7 support team. LeoVegas offers you three different ways to do so:
You can ask your question in the online chat,
Call the phone number,
Write an email, which, like your phone number, is listed on the bookmaker's official website.
Those who don't like to waste their time waiting for a long time should note the first method will suit best, as waiting for an answer from the operator in the online chat takes just a few minutes.
Besides, the LeoVegas website has a detailed FAQ section where you are sure to find some answers to your questions as well.