Best Esports Games list in 2021
After the well-known events, restrictions on business continue to adversely affect various areas of the economy. But some industries have suffered little or no damage from the pandemic. For example, for gambling in general, self-isolation has benefited and significantly helped improve the financial condition of many interested parties. Shares of game developers and game console manufacturers have gone up. 
Online gaming platforms have several times set new records for viewing hours. Cybersport proved to be the only sport in the world that did not suspend its activities, and all esports games competitions quickly moved to the online format. These tournaments began to be featured more frequently in the news roundups. At the same time, other sports went on hiatus. The public was not allowed into stadiums, and various tournaments were postponed. Many discovered esports games pc for the first time as a new way of entertainment.
TOP 10 ESPORTS GAMES IN 2021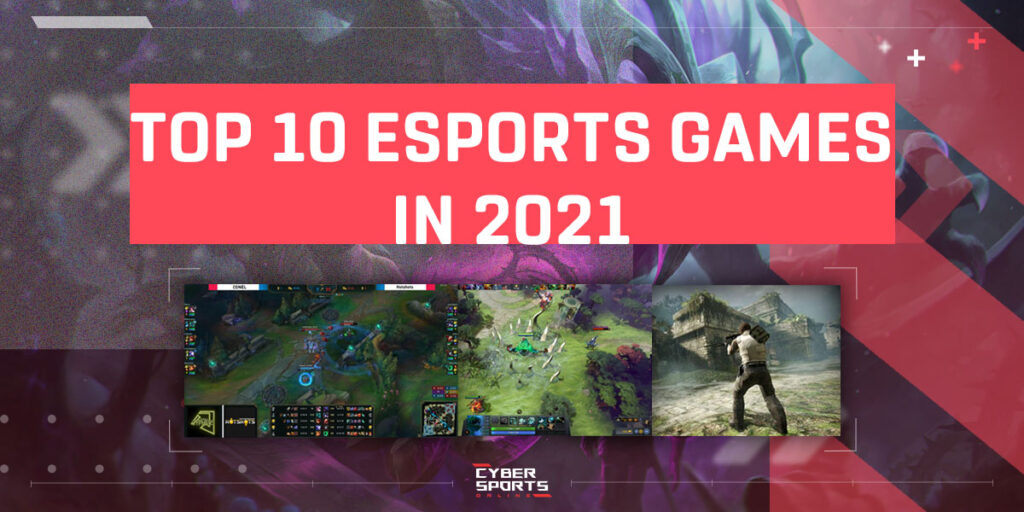 It must be said that in cybersport, too, not everything is clear-cut. Many world-level competitions, for example between America and Europe, have been canceled or postponed. Regular esports games tournaments were divided into regions, as the closing of borders and the available speed of the connection between the servers and the computers prevented the normal conduct of championships. But these were temporary difficulties. Now people are more interested in cybersports. Take a look at the esports games list, which are particularly popular.
Counter-Strike: Global Offensive: A cool game that is considered to be the biggest eSports discipline. Her almost 20 years old and is probably well known to your parents. Despite its age, she is still actively gaining a new audience.
Dota 2: The game embodies the eternal struggle of darkness and light, which invariably attracts millions of users. Not surprisingly, the main tournament has the highest rating on Twitch.
LEAGUE OF LEGENDS: The beauty of the genre where every battle is like a separate story. We can talk about this game endlessly. Millions of gamers choose MOBA for real-time battles every day. The game retains the leading position in terms of views on various streaming services for a long time.
Fortnite: Great game content that regularly makes the top 5 esports games on the internet. Here players do not always have enough opportunities to survive. But the tournament prizes, as a rule, overlap this shortcoming.
Call of Duty: The developers of the game did not expect such a commercial success. But the military theme and terrorist threats have always excited people. Add to this the spectacular gameplay with constantly changing situations, and you get super popular content.
Rocket League: One of the most challenging cybersports disciplines in the world. Broadcasts of major tournaments and leagues often gather more than 50,000 viewers per view. Large organizations take part in them. For example, representatives of famous soccer clubs such as Barcelona.
PUBG: Another post-apocalyptic story expertly portrayed by photographer and designer Brandon Green. An interesting theme with battles in confined spaces continues to fascinate millions of users from all over the world.
OVERWATCH: You can't pump up your abilities here. More recently, it was the best place to practice teamwork. Now many players are highlighting some functional shortcomings and waiting for a quality update.
STARCRAFT II: The new design for intergalactic battles quickly caught the attention of fans of the old version. South Korean gamers were especially excited about this reincarnation. There are concentrated all the major tournaments for this game. They regularly gather an audience of many thousands.
HEARTHSTONE: A card game with deep enough mechanics that requires serious skills. Anyone interested in this content can count on activity from the developers. They regularly hold competitions to improve the user experience.
Here are both older and new esports games 2020 that continue to break records for popularity and frequency of tournaments. Of course, the eSports universe is much bigger, and from the looks of it, it will continue to expand forever. As long as there is a virtual network.
UPCOMING ESPORTS GAMES IN 2021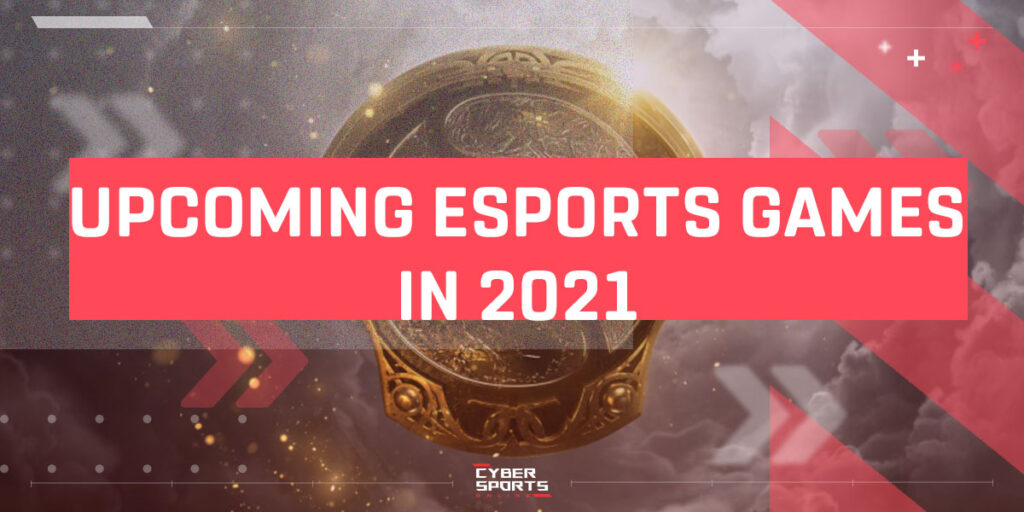 Cybersport does not hide its ambitions and continues to spread out around the planet, attracting attention. Numerous fans of esports games demand new spectacles. Famous game creators are trying to tip the scales in their favor and organize esports games 2021 for every taste with fantastic prizes.
In 2021, it will be known which of the Japan League participants will share the total prize pool of ¥32,000,000 for winning the Rainbow Six tournament. This significant event in the world of cybersports in Japan is organized by NNT Docomo and Ubisoft.
In June 2021, the eSports community is waiting for a lot of interesting and significant events. First of all a LAN tournament on Dota 2, which will be held under the auspices of the World Pro Invitational Jakarta. The best will share half a million dollars. More information about the tournaments can be found on the table.
| | | |
| --- | --- | --- |
| June 15 — June 20 | RLCS Season Two | $400 000 |
| June 18 — November 21 | The second season of the Master Tour Series | $250 000 |
| July 06 — July 18 | ESL One Cologne | $1 000 000 |
| August 01 — August 31 | The International DOTA 2 | over $40 million |
| September 08 — October 10 | ESL Pro League | $750 000 |
| October 23 — November 07 | PGL Major Stockholm | $2 000 000 |
In mid-summer, fans of "Counter-Strike: Global Offensive" expect no less bright event in the series of BLAST Premier with the famous teams who want to get most of the $425,000. In addition, more than seven million dollars will go to the winners of the CS: GO tournament series in Shanghai. Finally, in December 2021, the FunSpark ULTI is expected. This is a significant event for professionals, which will bring together the best CS: GO teams from around the world.
What is esports and where did it come from?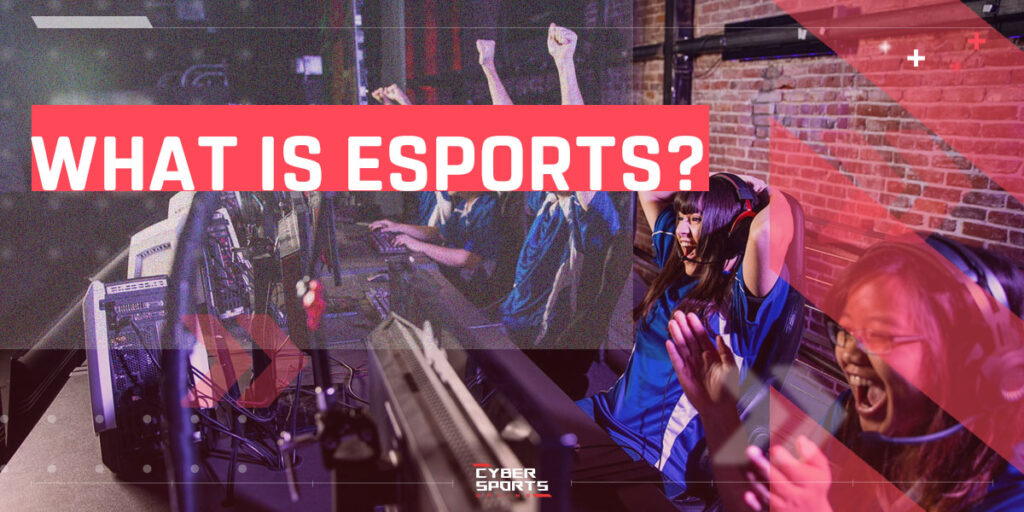 Unbeknownst to everyone, cybersports began to emerge with the first arcade games. In the early 80s, the first tournaments on Spacewar were held within the walls of Stanford University. Could the first winners of the tournament who won a subscription to the popular magazine "Rolling Stone" have ever imagined the scale of the prize money of future cybersport events? It is unlikely, but the Atari game company was able to recognize the prospects of this direction.
In 1980, Atari executives organized the first national championship. It brought together almost 10,000 players in Space Invaders. The final battle was held in New York. Then the winner was future game developer Rebecca Heineman. Soon Blockbuster and Nintendo fans joined the competition. The popularity of esports games began to grow like a snowball, captivating thousands of users. The era of console games was approaching.
Cybersports began to take on a modern face with the introduction of StarCraft. This game did not require quick reflexes. Strategy and logical thinking were at the forefront. The strategic potential was endless. At the time, South Korea was a true forge for talented players. But soon Las Vegas appeared on the horizon where the Evolution Championship Series was being organized in the 90s. Soon the first cyber professional league (CPL) was launched, and all could smell the big money.
What makes a game an esport?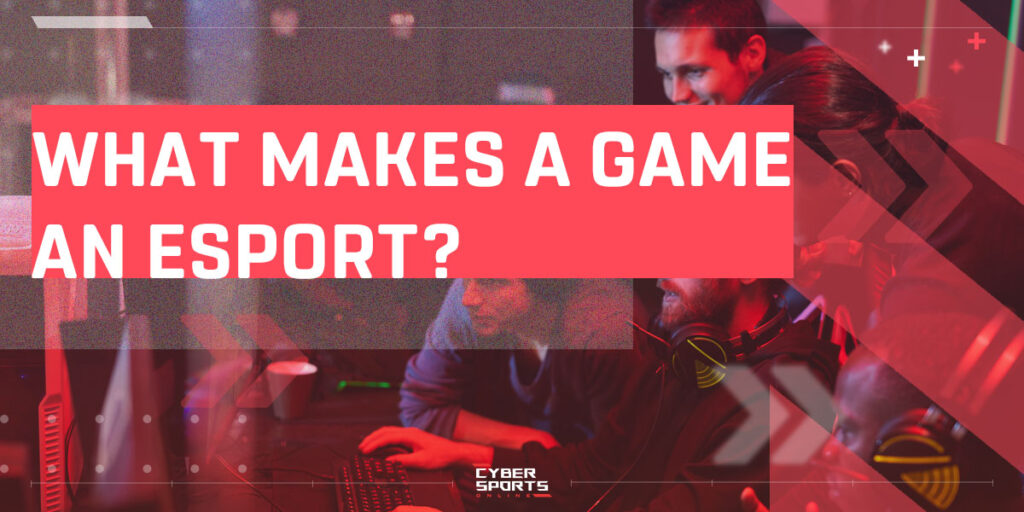 Cyber sports are the future. There is no doubt about that. The opportunity to win millions with esports games 2021 seems like a great prospect for many. But that's not the only thing that draws increased attention to esports games makes them so interesting, filling stadiums of many thousands.
Skill
For a professional player, cybersports are no longer entertainment. It is a complex team effort to achieve better results. The skill of individual gamers can attract thousands of users. To progress, a good player needs a systematic approach with deep analysis of past games and study of opponents' strategies. Spectators always feel the peculiar heat of the confrontation and the quality, productive action. For this, they love esports games and applaud their idols with pleasure.
Popularity
All over the world, cybersport is evolving from mere entertainment to a full-fledged industry. But in some Asian countries, this trend reaches fantastic heights and continues to develop at the highest level of popularity. The growth of such interest in cybersports is promoted by many different factors. This is the speed, the cost of the Internet, the technological development, and the interest of the audience in the games. To be in the trend, people try the best esports games to get into from a mobile device, actively discuss the latest innovations and try to keep up with the times.
For many people, Soccer, hockey, basketball, or other sports have long been relegated to the background, and lost their leadership. The world is fascinated by cybersports. Thousands of potential gamers fill arenas and stadiums of world capitals. Hundreds of millions watch the broadcasts. Their idols are just out of high school but have already become quite wealthy people. Famous global brands become their sponsors. On the wave of success, for many major companies, all esports games become attractive investments.
Viewing Experience
Virtual competitions have long ago moved to the best stadiums and delighted their fans. The prominent streaming platforms compete for the rights to broadcast the most significant events with serious prizes. Check out the top 5 esports games by views in 2020:
League of Legends — 580,8 Million hours;
Counter-Strike: Global Offensive — 354,2 Million hours;
DOTA 2 — 253,3 Million hours;
PUBG — 134,5 Million hours;
FREE FIRE — 132,2 Million hours.
Audience interest is growing and breaking records. Streaming services like Twitch maintain the potential of esports games even at the regional match level. Public interest is enormous. One in ten users of the network watches live broadcasts of cyber sports events. Twitch has approximately 140 million active users each month. Of those, at least 15 million people watch live videogames every day. Thanks to this viewer interest, the campaign for full membership of cyber sports disciplines in the International Olympic Committee is underway.
What are the most common esports genres?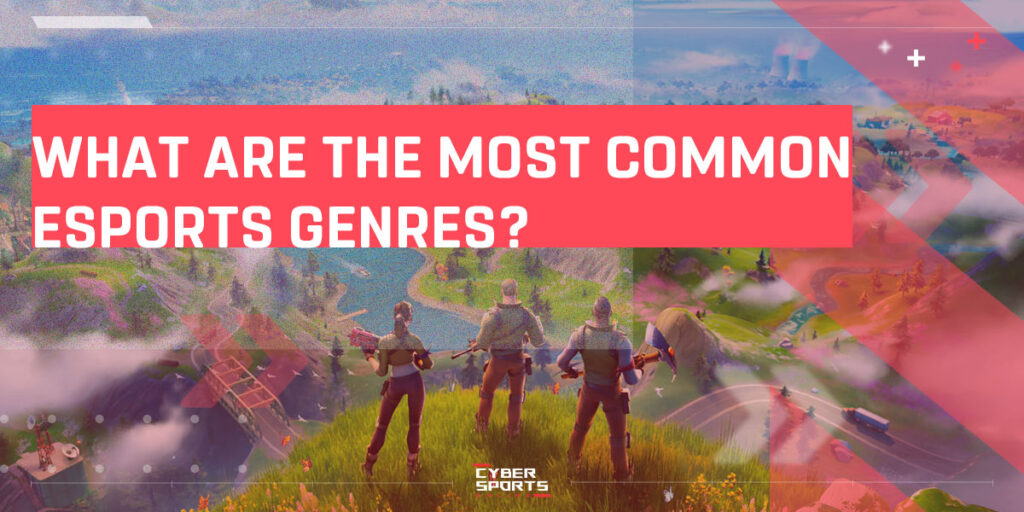 Video games have always implied team and individual player skills. Game companies create their products on this basis. Everyone can try themselves in one or another esports game to learn about their preferences for the future. To date, the following game modes are particularly popular:
Multiplayer mode allows you to play against other people online. Players have to demonstrate their skills by competing in real-time. This takes all your newfound knowledge and abilities to a whole new level.
First-Person Shooter: This is a great way to feel like a winner. By changing weapons for each specific situation, you always get closer to the cherished goal. Being in the skin of your character you get the best emotions wanting to prolong your virtual life.
Fighting: For many, this discipline is a true cult. In such games, the competitive spirit is always alive, and emotions run wild. In the real world, the Fighting scene can look like a graveyard of broken joysticks.
Real-Time Strategy: Here is the simplest time concept. Everyone moves at the same time. This is not chess to wait your turn. Each RTS participant sticks to their tactics, hoping to gain an advantage. Pauses are not provided here. All decisions are made under the pressure of a certain situation.
Sports Games: A great way to imagine yourself as a famous coach changing tactics during the match or as a popular player demonstrating the high technique. Here everyone will find entertainment for themselves, choosing a variety of game sports. No wonder that even esports games mobile in this genre can keep gamers in front of the display for dozens of hours.
Battle Royale: A popular genre for players with big ambitions. Participants have to fight until there is one winner out of several dozen. Everyone can do anything to win. Battle Royale is usually limited in time, and you have to be more decisive.
Every year the cybersport space increases in size. In parallel, the audience and investments are growing. New directions appear, and existing ones gain popularity. Gaming exhibitions are visited by crowds of people. They are looking for spectacles in the genre that is of more interest to them. There are too many offerings to disappoint anyone.
What are the next big esports?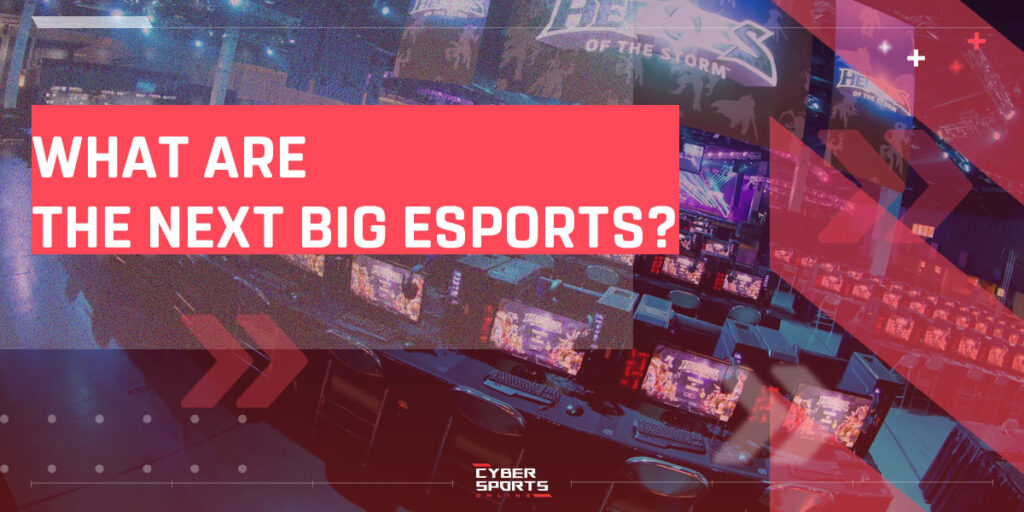 Even though some so-called "experts" compare cybersports to a bubble ready to burst, the vast majority have the opposite opinion. Surely there will be a group of enthusiasts who want to bring something new to esports games shortly to keep things moving forward.
Recent trends clearly indicate that cybersports are growing in popularity. There are now sports venues that focus solely on cybersports. An example is the HyperX Esports Arena in Las Vegas, which has already hosted several large-scale ventures. In the future, there are plans to open similar cybersports centers in Canada and China.
The industry is expanding, and new sponsorship deals with famous teams and individual players are possible shortly. The same goes for streaming companies. The involvement of giants such as YouTube and Twitch in advertising new games with esports potential could open up previously unknown avenues for gamers. The interest from both viewers and brands allows streaming to develop by leaps and bounds and rapidly increase the turnover of not only the service itself, but the entire industry of eSports as a whole.
But the best prospect is esports games mobile with more freedom of action. Top mobile titles continue to gain popularity. This is a familiar trend for this format. Mobile brings with it many advantages. This is especially valuable in the case of multiplayer games. When you need to go somewhere, you can't interrupt the match. You can easily continue playing on the go. The most primitive games can be fascinating, capture the attention of users for a long time, and bring the authors hundreds of thousands of dollars.
What makes esports games so popular for gambling?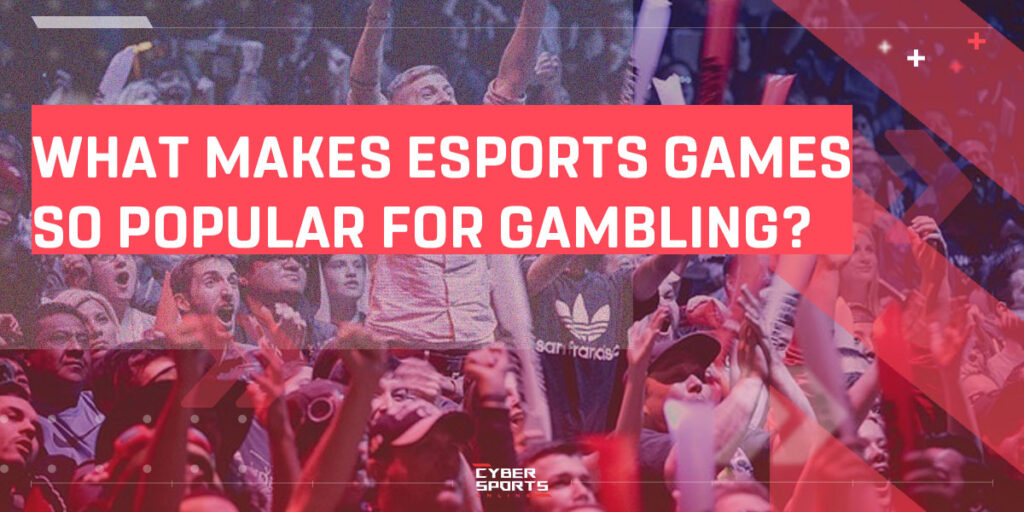 Gambling is slowly but surely becoming part of the cybersports industry. Betting on cybersports is considered an incredibly promising direction of online gambling. This is proven in practice. Famous players are sponsored by various big bookmakers and online casinos. It's no secret that there is a lot of investment in cybersports. Many top players depend on advertising contracts.
Thanks to such mutually beneficial relationships, esports games tournaments with impressive prizes are held, and live broadcasts are organized for millions of viewers. In a different situation, many famous and up-and-coming teams might simply never make it to the popular competitions. Their names would have remained unknown and their talents undiscovered. A wide variety of eSports teams compete on the world stage only thanks to the support of gambling services.
Initially, betting on eSports was not taken seriously. Only several companies included this discipline in their lineup. Now it is not a problem to find suitable cyber sports tournaments. Every well-known bookmaker offers to bet on esports games and good odds. Such bets are a little different from the usual sports. The algorithm is the same. You need to choose a computer game that you like, carefully analyze all the nuances, and make the right decision.