Available eSports Betting Payment Methods
Discover all major eSports betting payment methods to bet on your favorite team or player. There is no denying that betting on eSports is a huge deal in the modern world of online betting. Many bookmakers have started to accept bets on various tournaments and competitions involving such video games as:
CS:GO;
Dota 2;
League of Legends;
Overwatch;
Valorant,
Call of Duty, etc.
Players can now add thrill to watching the live streams of various popular eSports tournaments by betting on numerous factors. In addition to betting on the winner, bookies allow placing wagers on other game factors. Regardless of what you want to bet on, you'll need to complete two simple steps:
Create an account with a bookmaker that accepts bets on the game tournament you are interested in;
Deposit enough money to place a bet.
The latter is very simple. You pick from a variety of options and follow the instructions. Let's review the most popular payment methods to help you pick the one that works for you.
Most Common eSports Betting Deposit Methods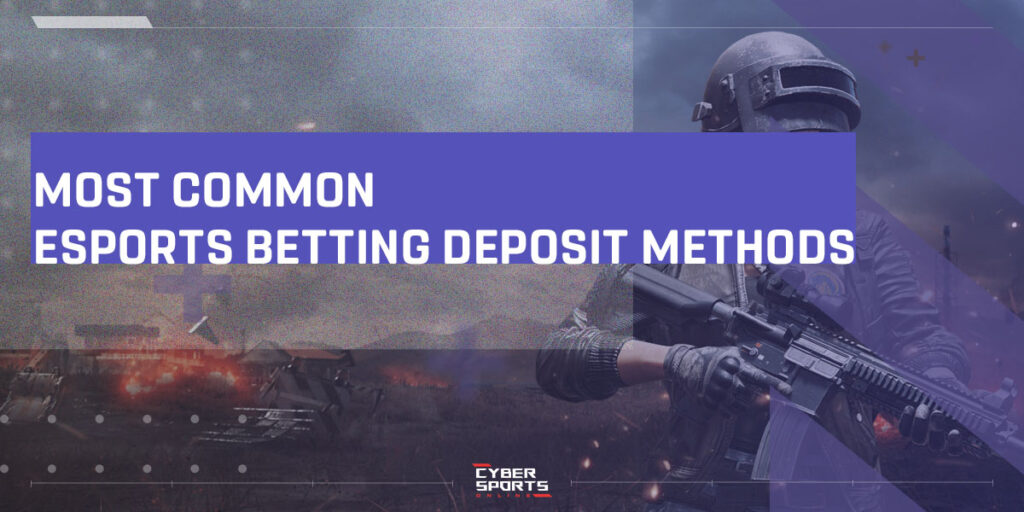 Nowadays, there are plenty of ways to deposit money into your betting account. Study the table below, as well as a more detailed review of all popular eSports banking methods, to uncover the major available types of payments and what payment systems you may use to add funds before betting online.
| Payment type | Available Options |
| --- | --- |
| Bank cards (credit/debit) | Visa, MasterCard |
| E-wallets | Skrill, Neteller, Entropay, PayPal |
| Prepaid cards | Paysafecard |
| Cryptocurrencies | Bitcoin |
| Wire bank transfers | From any local bank |
The immense selection of options could seem overwhelming at first. However, every bettor can freely pick the wanted method or stick to the trusted ones instead of trying new, unfamiliar systems.
PayPal
One of the most widespread choices is known for its security, transaction speed, and minimal fees. If you are still debating, choosing this payment method is a sure-fire way to enjoy secure and quick deposits.
Skrill
Quite similar to PayPal, Skrill is also a renowned payment method. In addition to quick deposits, eSports bettors can make simple withdrawals. Since the company operates in many countries, the e-wallet supports numerous currencies.
Neteller
When talking about eSports betting and gambling in general, there is no denying that Neteller is a must on the list. The payment system allows seamless deposits and convenient withdrawals. This popular payment method is used all over the globe and has the trust of millions of users. It's a secure solution worth considering.
Entropay
This payment method differs a bit from the previously described ones. For once, because it delivers a virtual VISA card and convenient interface. Bettors may use this payment method and rely on its security protocols to keep the funds (and transaction details) safe. Besides, Entropay has competitive fees, so keep that in mind when choosing the system.
Credit/debit cards
Many people are used to paying for goods and services online using their bank cards. Bettors may equally easily add funds to their betting accounts and wager on various eSports tournaments. In addition to the familiar payment process, bettors are sure to enjoy the simplicity of deposits/withdrawals.
Paysafecard
In case you don't feel like sharing banking details or e-wallet information with the bookmaker, you can use an alternative payment method. Purchase a prepaid card with any sum of money on it and spend on anything you want, including online betting. For now, the system is available in 46 countries. Its popularity keeps growing as it increases anonymity.
Trustly
This payment method is available in European countries only. So, in case you are in Europe, and you need to deposit money to your betting account, try using this solution.
Bitcoin
Nowadays, cryptocurrencies have become a popular method of paying for online gambling activities. It's secure, quick, and cheap. The most popular option is to pay with Bitcoin. While not all bookmakers accept it, this number grows fast. Besides,
Top 4 factors to pay attention to when choosing eSports betting payment methods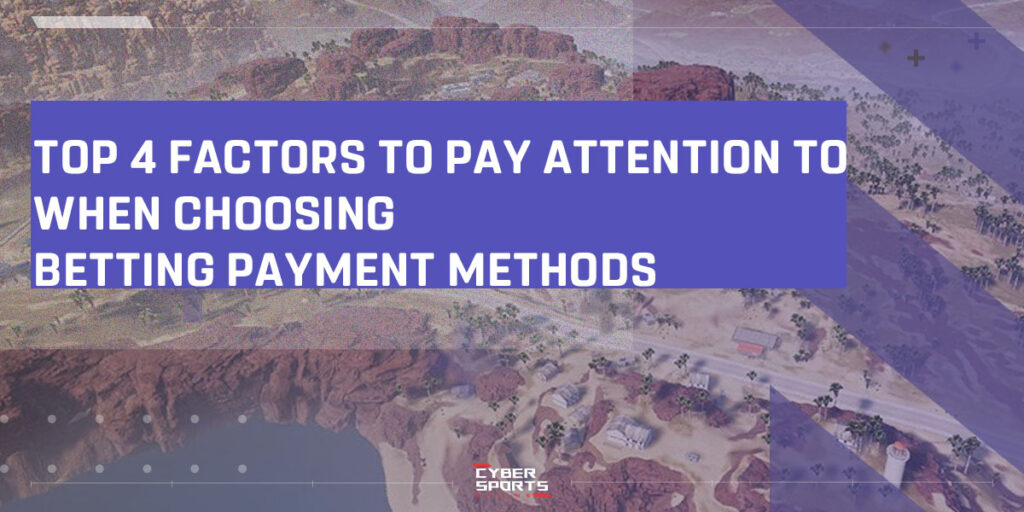 Each bettor is sure to find a suitable payment method from the selection of above. However, to help you make the most reasonable choice, you'd better take into account the following factors:
Security.
When it comes to money and the Internet, security is the foremost concern. Pick the system that protects your personal information as well as funds from being stolen by hackers or scams. Pay attention to the security certificates and encryption types to find the optimal payment system.
Simplicity.
Surely, adding and withdrawing money from betting accounts should take the least of your time. It will be impossible if you always get confused and lost on the payment page. Explore the payment methods at the top of your list and compare the layouts, design, features, and comfort of using the site.
Speed.
Find out how long it takes to complete the transactions if speed is essential to you. Stick to electronic payment systems to get faster deposits and withdrawals because banks and wire transfers are the slowest solutions.
Fees.
Each payment system charges for every transaction. However, the fee size differs, sometimes a lot. Compare the costs of using different payment methods to pick the best-suited one.
Esports Banking Methods: Transaction Speed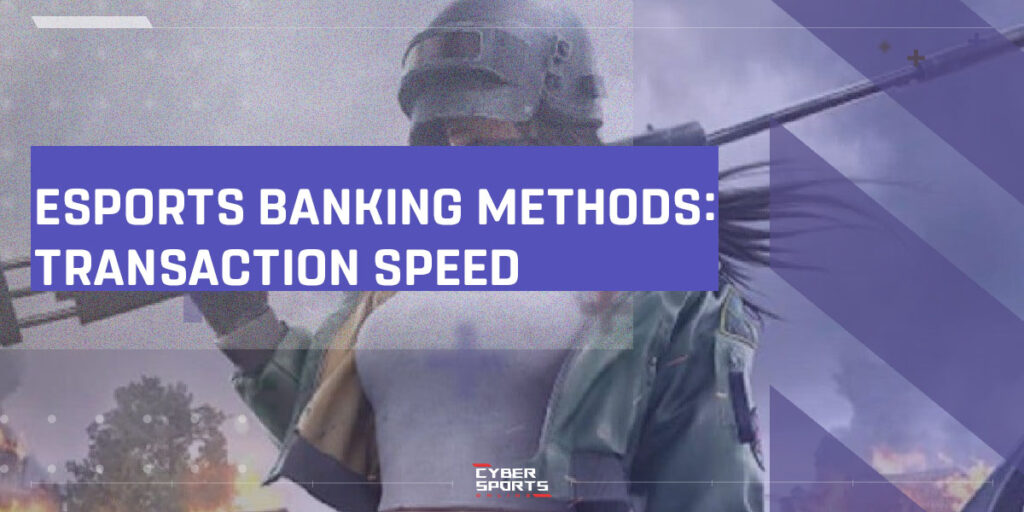 When sorting through the available payment systems, one should take into account the speed of transaction among other factors. Using modern e-wallets and prepaid cards allows instant deposits. Depositing via a wire transfer, on the other hand, may take longer.
As a rule, all withdrawals take longer compared to deposits. E-wallets generally require up to 24 hours, while cards or bank transfers can process the transaction up to a week. What's important to remember here is that the duration of the processing period (for deposits and withdrawals) depends on each payment system. So, to avoid disappointment, you should check out the timeframes
Sometimes, the payment processing time is influenced by additional factors like system glitches, national days off, maintenance. These are more exceptions than rules. Nevertheless, you should not discard them, especially if you plan on betting during weekends or holidays. Perhaps, it's better to deposit enough funds beforehand.
Payment Validation: Requirements & Peculiarities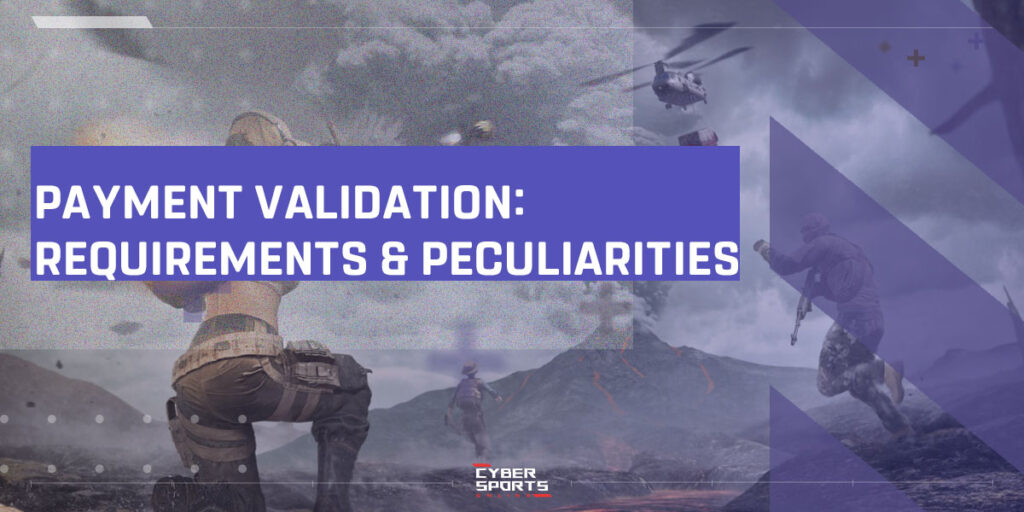 Bettors who plan on adding and withdrawing funds must complete the account verification. As a rule, it's all about security checks. They exist to ensure your funds are safe and transferred when (and how much) needed. The validation also exists to enforce the age restrictions and prevent fraud. Do you wonder how this happens? Quite easily, actually. The bettor must simply provide a copy of ID and proof of address. one may use the passport, driver's license, utility bill to prove the identity.
Most bookmaker sites do not require this for deposits. However, the site won't let you withdraw any winnings until you complete the procedure. In general, it may take up to 72 hours for site managers to review the documents and verify the account. Only after that, you'll be able to withdraw money. To verify a deposit, on the other hand, you only need to provide the payment details that validate the transaction.
FAQ
What kind of personal information will I have to share to bet on eSports online?

To start betting online, you'll have to create an account with a bookmaker. The registration usually requires information like full name, address, email, phone number, etc. When depositing money, you'll also share banking details. Based on the chosen eSports banking methods, the system will require action validation. However, since the website is secure, there is no need to worry about personal information loss.
Can I win money by betting on eSports?

If you sign up with a reliable bookmaker and make a correct prediction, you are sure to win real money. So, increase your chances of winning by learning all essential facts that may impact the outcome. Select the bet type you wish to bet on and do not ignore the bookie's rules. Read the terms & conditions to avoid any misunderstandings or violations.
How to choose from the list of eSports betting deposit methods?

While the selection of options is rather abundant, you should pick the system that offers convenience, bonuses, security, quick transactions, and reliable customer support. In case you are used to a certain payment method for your online transactions, check if the bookmaker accepts it. This way, you won't have to risk or worry about the funds or their safety.
Can I deposit money using the bookmaker's app?

Yes. In most cases, bookmakers accept deposits and even allow withdrawals via the mobile application. Simply go to the right section, enter the e-wallet/banking details, determine the sum you wish to get and verify the transaction. Keep in mind that all deposits are tied to your profile. So, no matter whether you deposit money using a desktop or an app, your fund will be available regardless of the device you use to access the profile.
Are there withdrawal limits?

While there are certain limitations on how much you can withdraw, the sum depends on the bookmaker. Nevertheless, most bookies have very high withdrawal limits. So, unless you bet and win really big money, you won't cross that threshold.