Esports Tournaments
If you like to try betting but don't know which sports to choose, esports tournaments are an excellent choice. Cybersports is extremely popular today. Developed for several decades, this piece of entertainment became a serious player on the sports and betting markets. Virtual sports tournaments cover a lot of professional players, million-dollar prizes, and an uncountable number of fans.
In this article, you will learn the most useful information about esports including the most popular titles, tournaments, and many others.
Esports & Gaming Tournaments for 2021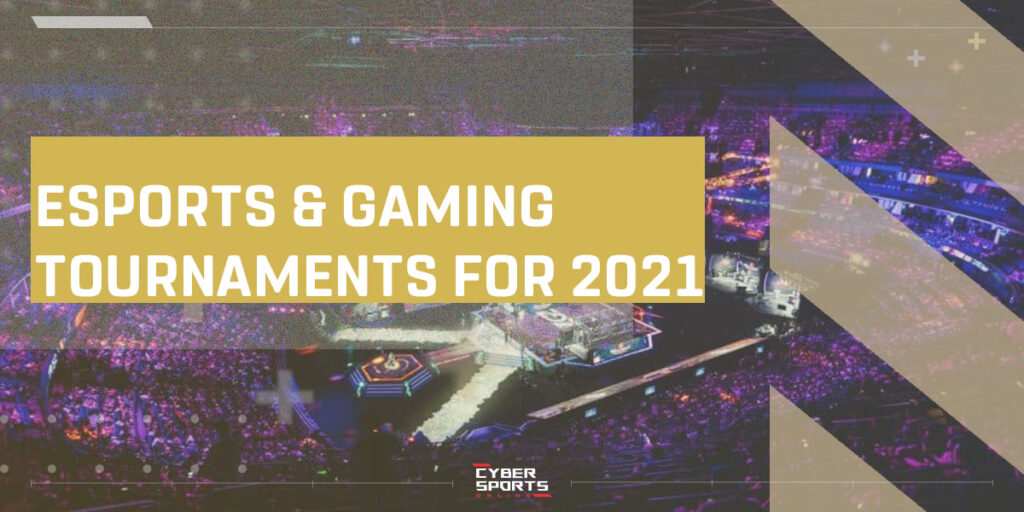 This year is a big one for esports. First of all, the cybersports titles became even more popular and a lot of new talents joined the competition every day. Secondly, esports tournaments 2021 will be bigger than ever as the pandemic influenced this part of the industry much. The prizes are very big as well. For instance, one of the most anticipated Dota tournaments of this year called The International 10 provides a prize pool of more than $40 million.
Another great feature is the quantity of available esports to bet on. There is a wide range of different titles you can wager and gain success this year. Also, some top bookmakers provide a possibility to watch a match via live stream. Sometimes, you can watch several games simultaneously. For now, esports has a leading position among other sport types in the betting field. Visiting different bookmaker platforms, you can always find such games as:
Dota 2.
League of Legends.
Hearthstone.
League of Legends.
PlayerUnknown's Battlegrounds.
And many others.
The History of Esports Tournaments
Although esports tournaments seem something new for the majority of sports fans, the first tournaments were held more than 40 years ago. Nevertheless, it was pretty different from what we have now. The tournament was called The Space Invaders Championship. One of the participants who scored the biggest amount of points won.
Almost twenty years later, such tournaments started to be more similar to their current versions. For example, a famous Quake Tournament Red Annihilation was held in 1997. The winner received a luxury car. Since that time, there were a lot of local LAN competitions which significantly popularized such a piece of entertainment and eventually made it big.
Nevertheless, the most considerable contribution was made by StarCraft II and its enormous community in Korea. Although the game is not as popular now, more than 10 years ago it was a hit that was followed by numerous tournaments and gigantic prizes. Due to such a success, a lot of popular titles now gained their success, as well as cybersports, became a professional branch.
The Best Esports Tournaments to Check Out in 2021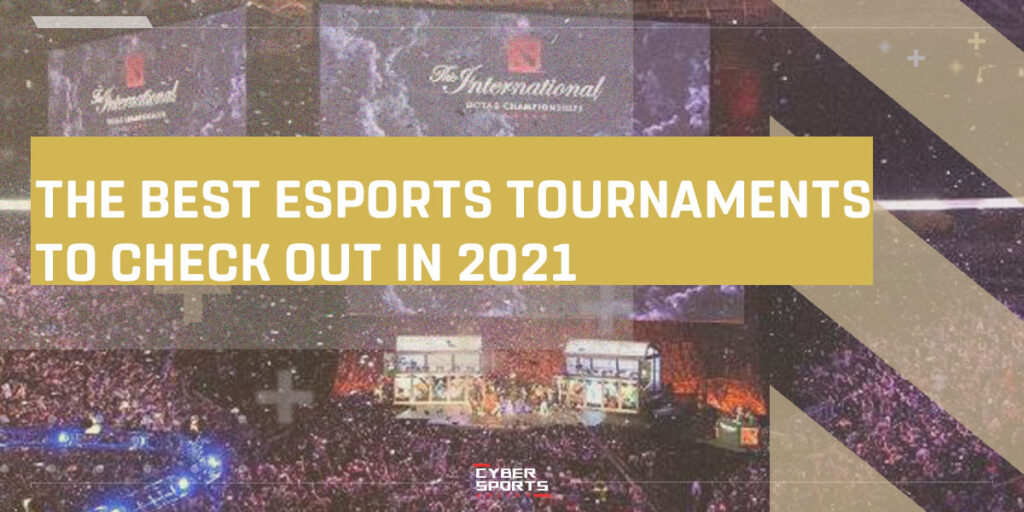 Despite almost the whole world stopping during the pandemic, esports has been developing and spreading even more. All the quarantine restrictions made it impossible to hold LAN tournaments. Fortunately, there is a great alternative to running a competition online. In this way, the majority of popular events like esports tournaments Fortnite, PUBG, and many others can be expected this year. Nevertheless, things stay unclear with some big Valve tournaments, League of Legends, and so forth. Let's take a look at an esports tournaments schedule.
| Title | Event |
| --- | --- |
| Dota 2 | Circuit 2021, The International 2021 |
| Mobile Legends: Bang Bang | M2 World Championship, Professional League (MPL) |
| CS: GO | BLAST Premier Series, IEM Katowice 2021, Major Championships |
| PUBG Mobile | Global Championship Season 0 Finals |
| Overwatch | League Season 4 |
| League of Legends | LEC / LCS, Worlds 2021 |
| Call of Duty: Black Ops Cold War | League 2021 |
| PUBG | Global Invitational.S 2021 |
| Valorant | Champions Tour 2021 |
Let's take a closer look at the biggest upcoming events.
League of Legends Worlds 2021
One of the biggest esport tournaments will be held this September in China. It's the final part of the 2021 LoL season and it promises to be epic. It's not surprising as League of Legends is one of the most popular MOBA titles ever and the main competitor of well-known Dota 2. The tournament runs for more than a month. Only the best players will show their skills and fight for the enormous prize. Last year, it was around $6.5 million. The coverage of audiences interested in LoL events is unbelievable. For instance, more than 1 million fans were watching the beginning of the Worlds 2020 and almost 4 million were streaming the final. It's hard to imagine what numbers will wait this time.
Dota 2 Pro Circuit
One of the top esports tournaments organized by Valve Corporation, the developer of the title. The starter amount of a prize was more than $1.5 million, but it grew up to $40 million due to the Battle Pass transitions. The event will be held in October, so the size of the awards will become even bigger. The tournament can be divided into two pieces:
Group stage – eight of the eighteen teams will take part in further competition.
Playoffs – participants compete for first place.
The event takes place in Bucharest, Romania, and lasts from the seventh to the seventeenth of October. The participants of the tournament are chosen by local qualifying rounds around the globe and Dota Pro Circuit rating of the best players.
CS:GO Major Championships
Among the highest paying esports tournaments is another big upcoming event that will be held this October as well. It was announced that the main prize of the competitions will be $2 million. The best Counter-Strike players from 24 teams will show their skills and compete with each other for such a huge prize pool. This time, the tournament is organized by Valve PGL. It will take place in Stockholm, Sweden. The list of RMR-tournaments the winners of which will take part in Major includes:
| Event | Location |
| --- | --- |
| Flashpoint Season 3 | Europe |
| EPIC CIS League Spring 2021, StarLadder CIS RMR 2021 | CIS |
| cs_summit 8 | North America |
| CBCS Elite League Season 1 | South America |
| Perfect World League Season | Asia |
| EPIC Oceania League Spring 2021 | Oceania |
Valorant Champions Tour 2021
Valorant esports tournaments are brand new on the market. They are dedicated to a game developed by Riot Games combining features of Counter-Strike and some other shooter games. However, the title is provided with many benefits and dynamics. Sixteen winner teams of regional championships will meet this November during VALORANT Champions 2021. The developer of the game plans to make it big and provide huge prizes to compete with such big titles as LoL, CS, and so forth.
Impact of the Pandemic on Esports Tournaments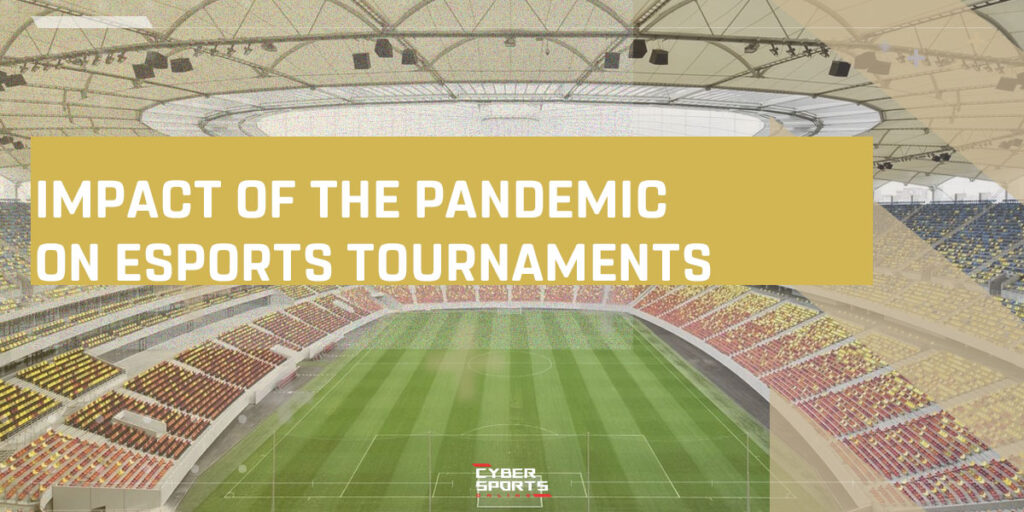 While the majority of branches were stopped, a lot of large companies held esports tournaments 2020 online. Such competitions were quite big and provided huge awards as well. Furthermore, cybersport became a good alternative for traditional sports for a large number of bettors. Unlike football, basketball, and other types of sports, virtual sports are much cheaper, don't depend much on location, and are much safer. In this way, the majority of bookmakers started to provide esports betting.
Nevertheless, some big events were postponed due to the quarantine. The majority of LAN tournaments are held locally, with a single country or several neighboring ones. Other companies started to use an alternative approach and run their competitions online. Among the most significant examples are tournaments by Activision-Blizzard, Riot Games, and many others. Moreover, the number of events held by third-party hosts is impressive. In this way, the pandemic only increased the popularity of cybersports.
The Future of Esports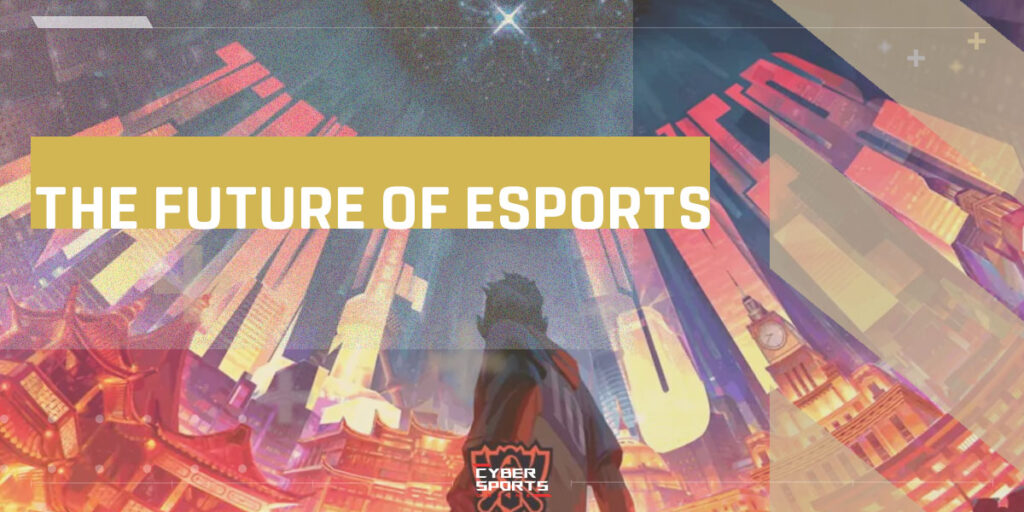 During the hard times, cybersports surprisingly gained a lot of new audiences and became an alternative to traditional sports. Despite some events being delayed, the branch still develops and becomes even bigger. Also, it became very easy to watch any virtual games and bet on them via any esports tournament app provided by numerous bookmaker platforms.
The majority of the most important companies for esports including Valve and Riot Games announced that they will hold their main tournaments later this year. In this way, soon there will be major Dota 2, LoL, and Counter-Strike competitions. Furthermore, the popularity of online events exceeded LAN tournaments and attracted both players and bettors as well. Hence, the esports industry is going to become even bigger, providing winners with amazing prizes.
FAQ
Are there many esports events during the year?

Yes, the number is impressive and it considerably grows yearly. For today, the number of tournaments exceeded 4,000.
How can I bet on esports tournaments?

Find an esports tournament website providing bookmaker services. Be sure that the platform you are going to bet on is safe and provides responsible conditions.
How can I watch an esport game live?

The majority of the best bookmaker platforms offer a live streaming option. Furthermore, some of them allow watching several games at once.
Are there any possibilities to bet on esport events via mobile?

Of course! Many bookies provide their special mobile application which supports all the services and functions of a desktop version.
What are the most popular titles of esports?

For today, the most popular games for cybersports are Counter-Strike: Global Offensive, Dota 2, League of Legends, Call of Duty: Black Ops Cold War, and many others.