Video games are all the rage among kids as well as adults these days. Whenever they are at home and want to pass time, video games are their best buddy. Especially in today's scenario, where people are forced to remain indoors, video games come in handy to keep them entertained. Video games have been around for quite some time and have developed and become more advanced with every new launch. With so many games available in every genre, everyone can find a game they love. For all the people who love cars and racing games, Forza Horizon 4 is a game you must check out.
Forza Horizon 4 is a racing video game that was launched in 2018. The game is shown in a fictional representation of Great Britain and the seasons also keep changing accordingly in the game, to give a more realistic experience to the player. The game was developed by Playground Games and published by Microsoft Studios. The game is available on Xbox One and Microsoft Windows. It has a single-player and multiplayer mode to play. It can be played online or offline as well.
The game belongs to the racing genre. The game is set in an open world environment, meaning that a virtual world is presented to the player where he or she can explore the landscape and approach objects shown in the game. The game is shown in a fictional version of Great Britain and shows parts of Great Britain like Edinburgh, Cotswolds and Lake District, to name a few. The game features almost 670 cars and each player has a 'drivatar' which is their own driver avatar. The server supports up to 72 players at a time.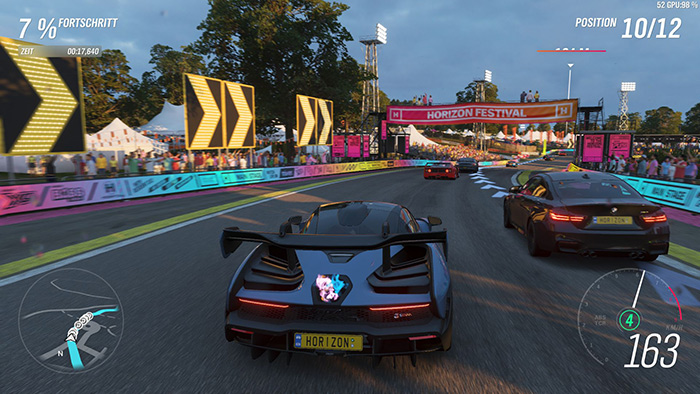 A noteworthy feature of the game is its depiction of changing seasons. The changing seasons enable drivers to come across new challenges as per the season. For example, in winters when there is ice, the drivers can drive on ice and get access to areas they couldn't access in other seasons. The changing seasons make the game more dynamic. It is interesting and exciting to play. The player comes across various seasonal challenges and has to tackle it, which stimulates the player to think and drive his way out. All players experience the same season together and it changes every week in a shared world. The onset of a new season is shown with the help of a countdown.
The player is rewarded with wheelspins for progressing through every seasonal story. Other rewards include credits, horns, emotes, clothing, cars, etc. It also has downloadable extensions of the game, named Fortune Island which features a new map, new cars, extreme weather conditions along with treasure hunting campaigns where the player can find treasure chests and win up to 10 million credits and Lego Speed Champ. Both of these expansions were launched in 2018 and 2019 respectively. Anyone who likes racing games will surely enjoy this game as well. With such a creative take on a simple racing game, Forza Horizon 4 keeps the player glued to it.